JANUARY 2011 NEWSLETTER
It's a new year. Before we move forward, my wife Robin and I would like to thank all of you for your interest in Titan Reloading and pledge our continued effort to provide the most complete line of Lee Precision equipment and support for your reloading needs. We have many new friends all over the world and enjoy the opportunity to know you. We are planning a monthly installment of this newsletter to keep you informed of new products and information of interest to reloaders. As always, you will find many answers to questions in the "FAQ" and "Help Videos" areas of our website www.titanreloading.com.

In closing I would like to wish all of you a Very Happy and Prosperous New Year!

Dennis / Titan Reloading
NEW IN 2011:

Lee Reloading Stand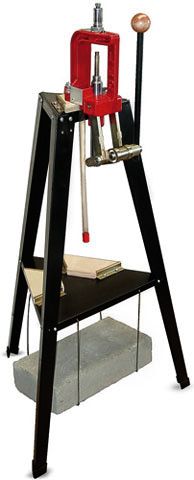 Introducing the Lee Reloading Stand; perfect for the reloader with limited working space, an overwhelmed workbench, or someone looking for solution to portable reloading needs. The sturdy powder coated steel stand places your press at the perfect counter stool or standing height. The 10 inch triangular steel top plate uses the Patented quick change Lee Bench Plate system.
There's more, the reloading stand includes a sturdy steel shelf with two bench plate receivers that will neatly and securely store your extra presses or mountable accessories. Included with the stand is one storage bin for component or tool storage, which clips onto the steel bin bracket provided with the stand. Each leg has eight mounting holes that allow you to accessorize your stand with a multitude of bins, shelves or accessory die racks. Includes drawing to customize and make your own extended work surface. This reloading stand is perfect for the apartment-dweller or anyone who is limited on space.
: All Lee metallic presses (Fasteners for mounting one press are included).
: Powder-Coated Steel
: Comes with one storage bin and bracket, top plate, intermediate shelf, drilled wood bench block, complete fastener set and two steel concrete block hangers.
Shown with optional press and wood blocks. Concrete block not included, but necessary for safe, stable operation. Obtain one at any building supply or home center.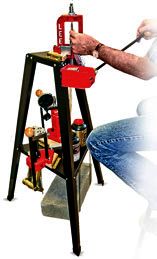 INSIGHT OF THE MONTH:

Full Length Sizing vs. Neck Sizing
Full length sizing dies such as the Lee Pacesetter Dies, return the entire spent cartridge to a degree that will chamber in any rifle for that caliber. Lee Dies size cases as minimally as possible while still ensuring proper chambering so that your brass is not "overworked" by the die. It is necessary to lubricate the case prior to full length sizing.
We recommend full length sizing when shooting fired brass for the first time in any rifle. It is also the preferred technique for rifles intended to be used for hunting so that rough handling of the ammunition through the magazine and chambering does not become a factor for error.
Neck sizing with Lee's Collet Dies generally provides increased accuracy because the spent cartridge becomes "fire formed" to your specific chamber. No case lube is necessary because the die is only pressing the neck against the mandrel in the middle of the die. Neck sizing is only preferable when reloading cases that have been fired out of your rifle. They are primarily designed for accuracy when using a bolt action rifle for target use. Collet neck sizing results in cases lasting up to ten times longer without the need for trimming near as often, as when full length sizing.
The Dead Length Bullet Seater that comes with Lee's neck sizing dies is designed for accuracy and does not crimp the case as does the seater/crimper in our Pacesetter dies. It is designed to touch the shellholder to eliminate clearance in the press for a more uniform bullet seating depth. Crimping is seldom necessary for target work.
The Deluxe Rifle Die Set includes Lee's Neck Sizing kit along with a full length sizing die. This is because you may obtain brass that has not been fired in your rifle and it allows you to prepare the case for its first firing in your rifle. Remember, it is necessary to lubricate the case for the full length sizing die only. After your first firing only the collet sizing die is required.