JULY 2011 NEWSLETTER
HAPPY BIRTHDAY AMERICA!!

Celebrate and Reflect on the fact that we are the "last bastion of freedom on earth". For this reason we must not focus on our differences, but rather, join together and preserve the USA as our founders designed it. Our freedoms are not free and will be lost if good people do nothing to uphold it. Teach our youth about the country we grew up in. This is no longer a part of schools curriculums, having been replaced by diversity. Our kids know very little about the freedoms we take for granted. We must ALL teach them.

Summer has finally arrived in Wisconsin. Robin and I (mostly Robin!) have the yard back under control and the strawberry patch is goin' strong. All is GOOD. Check out Robin's creation "Gorski Park".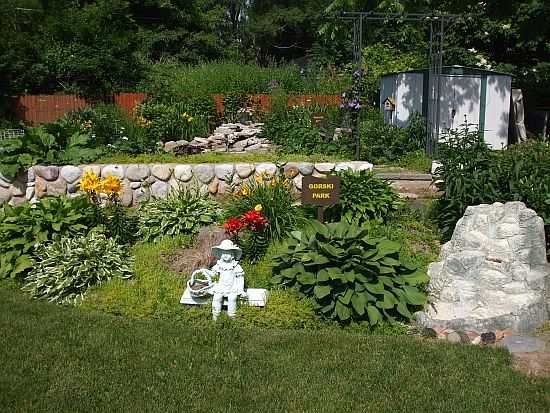 And look what showed up in our front yard again this year. The "Titan Scooters", Blue and Ruby. Now, that's summer!!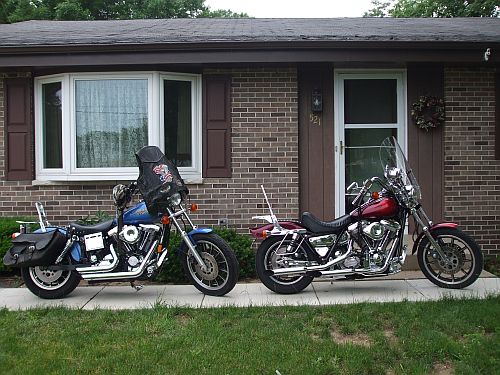 The best part of this last month was the morning of Fathers Day. Our son Michael got home from California where he has been serving with the 3/7 USMC. His Active Service has ended and he's home to join the Titan Team. Oh how he's grown! OOHRAH! United States Marine Corps. Our plan has been to add "consumables" to our product line and our sons Michael and Jeff are going to bring this about. Watch for this addition in a few months and any suggestions as to what you use would help us stock your needs.
We have been getting some product reviews on the website. THANK YOU! I know it takes a little time but it helps others a lot.
We are truely enjoying all the friends we have made through Titan Reloading and look forward to many more. Feel free to contact us. Service and Support is our top priority. I have a day job so the best time to call for support is between 6-10 PM CST. I am able to answer emails throughout the day. Robin can take your service calls daily and will pass any support questions she can't answer on to me. As always, you will find many answers to questions in the "FAQ" and "Help Videos" areas of our website www.titanreloading.com
Dennis / Titan Reloading
NEW IN 2011:

This is the press you have been asking for. Based on the proven design of the Classic Cast, the new Breech Lock series adds the quick-change die bushing.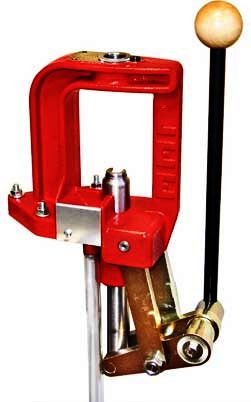 Cast iron construction with all steel linkage. Durable powder coated finish with largest opening and the longest stroke in the industry.
Handle is movable from right to left and length plus swing position is fully adjustable with a 48-tooth ratchet type handle clamp
The industry's largest 1 1/8" diameter ram is guided by over twelve square inches of ram bearing surface.
Lee Lever Prime System features bottom of stroke priming for unmatched sensitivity.
Includes both large and small priming arms. There's no need to fumble with tiny guides and springs when changing primer size.
Frame machined to accept Lee quick-change Breech Lock Die Bushings. Change dies in an instant with a quick 1/6 turn.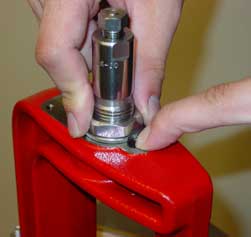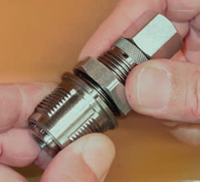 Includes 1 Breech Lock Bushing. See the "Press Accessories" category to buy extra bushings.
INSIGHT OF THE MONTH:
Liquid Alox Application
Best results in applying liquid alox are when the alox is heated before applying, or thinned with paint thinner. This makes it flow more easily, and results in a more even coat. One technique is to boil water and pour it into a coffee mug, and then drop the bottle of liquid alox into the mug for about five minutes.
Place your freshly cast bullets into something about the size of a Cool Whip bowl and drop a few drops of liquid Alox on the bullets. Mix the bullets around until they are all coated. Lay the freshly coated bullets on some wax paper to dry. Liquid alox will usually dry enough overnight to reload the next day, depending upon the humidity. Tacky bullets can be dusted with powdered graphite.
If you subscribe to the "more is better" line of thought, your coated bullets may never dry. Don't go for a "golden" color but rather just a light varnish. If you discover that your bullets are sticky the next day, you can get by with using a little less the next time. Keep reducing until the "stickiness" is gone by the next day.
If you are sizing your cast bullets, it is necessary to lube them first. Because the sizer will remove some of the surface of a larger diameter bullet, you may need to re-lubricate the bullets after they have been sized.
Many of our bullets are of the "TL" or Tumble Lube design. These bullets have many shallow grooves that are perfect for allowing Liquid Alox to adhere to a great amount of surface. It has been reported that the accuracy of these bullets is high.