You can subscribe to this Newsletter if you sign up for an account with Titan Reloading.
CLICK HEAR TO REGISTER AN ACCOUNT
CLICK HERE To browse an archive of past newsletters.

JULY 2017 NEWSLETTER
HAPPY BIRTHDAY AMERICA!


The Titan Crew is wishing all of our fellow Americans an Independence Day full of family and reflection. Take a moment to consider the spirit of our Founding Documents and what is happening to our freedoms as we redefine the meanings. The strength of our country comes from the self reliant individuals who are a part of a larger cause, not in the notion of a collective society were those who do not pursue happiness are still entitled to it. Our Constitution guarantees our opportunities….not our outcomes. We must teach this spirit to our children lest they only hear the redefined versions of responsibility so popular in educational circles today.
We are truly enjoying all the friends we have made through Titan Reloading and look forward to many more. Feel free to contact us. When possible, please email us rather than call. Due to our limited phone system and staff we are able to respond to your questions quicker via email. Please include your full name or order ID number with any order inquiries. Service and Support is our top priority. As always, you will find many answers to questions in the "FAQ" and "Help Videos" areas of our website www.titanreloading.com . Check us out on Google + and Facebook .
Dennis / Titan Reloading
FEATURED PRODUCT:
MIGHTY ARMORY DIES
The World's Best De-Priming and Swaging Dies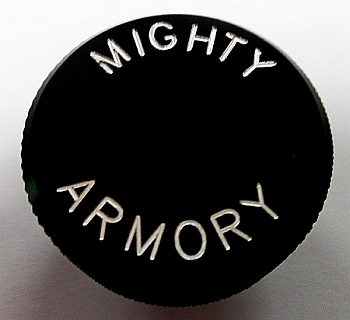 THE FUTURE OF DIE DESIGNS
Mighty Armory Dies are Precision Made on CNC Machines to Assure Tight Tolerances. The Rods are Heat Treated 4140 Hardened Steel, Tested Thousands of times with Zero Failures.
The Goal at Mighty Armory is Absolute Quality, which they have achieved.
Case preparation is the foundation of a great round. Buy the best. Mighty Armory guarantees your satisfaction with a limited lifetime Warranty. You will immediately feel and see the results from Mighty Armory Dies.
100% PRECISION CNC MACHINE CUT
TIGHT THREAD TOLERANCES
PERFECT VERTICAL ALIGNMENT
UNI-BODY MODULAR DESIGN
NO TOOLS NEEDED
INCREASED ACCURACY WITH A PERFECTLY PRIMED POCKET
TOUGHEST DIE ON THE PLANET
LOCKED DOWN IT BECOMES ONE SOLID DIE
HEAT TREATED 4140 HARDENED STEEL RODS DON'T BEND OR BREAK
ANODIZED BODY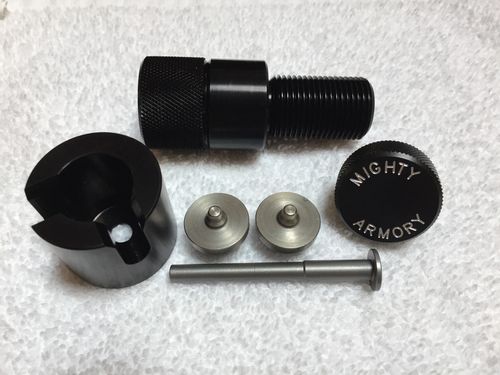 INSIGHT OF THE MONTH:
Removing Primer Pocket Crimps
All military brass and some commercial ammunition has crimped or "staked" primers. The crimp helps to hold the primer in when headspace is deliberately loose or just got that way. Military ammo can get a rough ride and anything to hold it together – from crimps to tar bullet seals – helps. This crimping process leaves a thin lip of brass displaced onto the edge of the primer to secure it in place. Before a case that has a crimped primer can be reloaded, the brass lip around the primer pocket must be removed. The old primers push out, maybe reluctantly, then the new ones don't want to go in. So you have to get the crimp out. But how? What's the Best way?
There are two methods of removing the crimp or opening up undersized primer pockets; Reaming and Swaging.
Reaming utilizes a cutter to remove the crimp by simply cutting it away. This requires a specially designed cutter. You can't just use a case mouth chamfer tool … although I've seen it done but with poor results. It is far better to purchase a tool designed specifically for reaming primer pockets. There are many reamers available and virtually every press and die manufacturer makes one. They range from simple hand tools to elaborate motor driven units that perform multiple functions in addition to reaming the primer pocket. The singular advantage of reaming is that it can be done with a simple, inexpensive hand tool … no electricity, no press, nothing other than your hands.
Swaging re-forms the entire pocket and produces the easiest-to-insert primer experience. Swaging utilizes a hardened steel stud that is forced into the primer pocket, literally pushing the metal back and restoring the primer pocket to its original dimensions. The only downside to swaging is some setup time. There are many different swaging tools made by most reloading manufacturers. For ease of use and accurate primer pockets I recommend this months featured product, Mighty Armory Swaging Dies