You can subscribe to this Newsletter if you sign up for an account with Titan Reloading.
CLICK HEAR TO REGISTER AN ACCOUNT
CLICK HERE To browse an archive of past newsletters.

JULY 2020 NEWSLETTER
RELOAD WITH CONFIDENCE!
What's Your TITAN Advantage?….WE RELOAD!
***Your Reloading Specialists***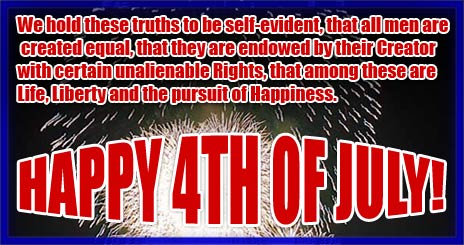 The Titan Crew is wishing all of our fellow Americans an Independence Day full of family and reflection. Take a moment to consider the spirit of our Founding Documents and what is happening to our freedoms as we redefine the meanings. The strength of our country comes from the self reliant individuals who are a part of a larger cause, not in the notion of a collective society were those who do not pursue happiness are still entitled to it. Our Constitution guarantees our opportunities….not our outcomes. We must teach this spirit to our children lest they only hear the redefined versions of responsibility so popular in educational circles today.
We are truly enjoying all the friends we have made through Titan Reloading and look forward to many more. Feel free to contact us. When possible, please email us rather than call. Due to our limited phone system and staff we are able to respond to your questions quicker via email. Please include your full name or order ID number with any order inquiries. Service and Support is our top priority. As always, you will find many answers to questions in the "FAQ" and "Help Videos" areas of our website www.titanreloading.com . Check us out on YouTube .

Dennis / Titan Reloading
FEATURED PRODUCT: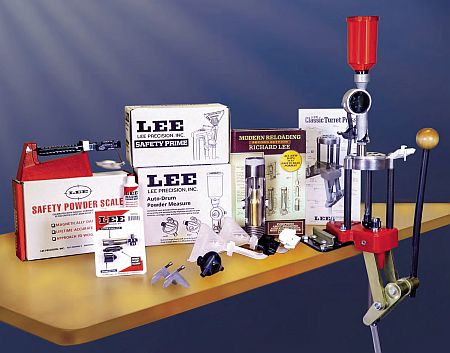 This kit and a set of Lee dies is everything you need to begin reloading. The Classic Cast Turret features solid steel linkage and a cast iron base.The Classic Cast Turret is fast and convenient when loading handgun cartridges, with rates in excess of 250 rounds per hour possible.
The kit includes the Auto Drum powder measure and riser, perfect for all handgun and small rifle cartridges. Large and Small Safety Prime are included making on press priming an ease. Instant change 4 hole turrets make changing calibers a snap. Deactivate the auto-index and batch load the longest and largest rifle cartridges.
Complementing your press kit are the case conditioning tools to prepare your brass for loading. Includes Cutter, Lock Stud, Chamfer Tool, small and large Primer Pocket Cleaner, and a tube of Lee case sizing lube.
Complete your setup with a cartridge specific Case Length Gauge (sold separately). Verify your loads with the included Lee Safety powder scale. Completing the kit is Modern Reloading Second Edition, recently revised with all new load data covering 167 cartridges with over 28,000 loads.
NOTE: The bench plate mounting system shown in the picture is sold separately in the "Press Accessories" category.
INSIGHT OF THE MONTH:
Selecting The Right Die Set For Your Needs
For Rifle:
Lee Pacesetter Dies and RGB series: Use these dies if you want to produce factory-dimensioned ammo that reliably fits and feeds in any gun. They are the first choice for semi-auto actions. Full-length sizing is a must if you are reloading for more than one firearm or reloading cases that were fired in others firearms. Most Pacesetter dies include the Lee Factory Crimp Die.
The Lee Collet Neck Sizing Dies: Use these dies for best accuracy, longest case life and no resizing lubricant. Only the neck of the case is resized the body is untouched so it retains the perfect fit to your guns chamber. Cases should have been fired in your firearm only and reloaded rounds are intended for use in just one firearm. These dies are the favorite of the bench rest crowd as there is no other die that can produce a more accurate cartridge.
If you intend to reload cases fired in others guns or you are reloading for more than one gun select the Ultimate Rifle Die Set. The Ultimate set includes a full length resizing die that allows you to restore any case to factory original dimensions so that you can fire form in your gun and then reload using the superior Collet neck sizing die.
For Pistol:
Most Lee Handgun Dies feature a Carbide Sizing Die. Carbide dies are simply the best way to resize straight walled handgun cartridges.
The Carbide Three Die Set works fine when using a quality controlled source of brass like cases fired only in your gun. More care is required when adjusting the bullet seat and crimp die as seating and crimping occur simultaneously.
Select the Carbide Deluxe Four Die Set when using mixed range brass or brass that was fired in others guns. The Deluxe Set includes the Carbide Factory Crimp Die along with the Carbide Three Die Set. This die allows you to separate bullet seating from the crimping operation. It makes setup much easier and the die has the added feature of a carbide resizer that does a finishing sizing pass on the completed round. This final sizing guarantees that any case that passes through the die, will freely and reliably chamber in any gun.
Titan Reloading 994 W. Sumner St., Hartford, WI 53027 1-262-397-8819
WE'RE SETTING THE STANDARD, ONE CUSTOMER AT A TIME.
You are receiving our monthly Titan Reloading Newsletter because you subscribed to it when you set up your account on our website www.titanreloading.com. We don't want you to miss out on the newsletters we send you. We also respect all our valued customers consent. That is why we are asking all of our readers to decide if they would like to discontinue receiving newsletters from Titan Reloading. If you'd like to stop receiving our newsletters please click the "unsubscribe" link at the bottom of the newsletter.