You can subscribe to this Newsletter if you sign up for an account with Titan Reloading.
CLICK HEAR TO REGISTER AN ACCOUNT
CLICK HERE To browse an archive of past newsletters.

AUGUST 2020 NEWSLETTER
RELOAD WITH CONFIDENCE!
What's Your TITAN Advantage?….WE RELOAD!
***Your Reloading Specialists***
This month I want to share our back yard with all of you. It has been an on going project for quite a few years as we did the work ourselves. I call it "Robin's Creation". The only things missing in the picture are the sounds of the birds, the smell of the flowers and of course………..my bottle of Budweiser.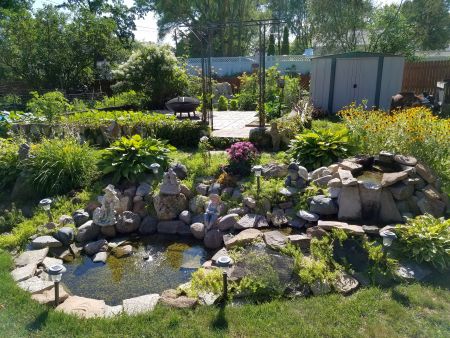 There has been a sudden increased interest in reloading. All of our suppliers are behind on order fulfillment and lead times have increased. We are doing our best to keep items in stock. We receive products weekly and we fill orders in the order they are placed. Back-ordering products will reserve them for you.
We received the following statement from the United States Postal Service:
USPS Alert: Due to limited transportation availability as a result of nationwide COVID-19 impacts, package delivery times may be extended.
Please be aware of this when choosing USPS for shipping. UPS does seem to be moving better and would be a good choice.
Titan Reloading will be closed August 19th-23rd.The website will be available for ordering but there will be no shipping during this time.
Our website automatically sends confirmation emails when a order has been placed and also a shipping notification when an order ships. If you do not receive these notifications please check your email program's SPAM (Junk) folder. It has come to our attention that some of our emails are ending up there.

We are truly enjoying all the friends we have made through Titan Reloading and look forward to many more. Feel free to contact us. When possible, please email us rather than call. Due to our limited phone system and staff we are able to respond to your questions quicker via email. Please include your full name or order ID number with any order inquiries. Service and Support is our top priority. As always, you will find many answers to questions in the "FAQ" and "Help Videos" areas of our website www.titanreloading.com . Check us out on YouTube
Dennis / Titan Reloading
FEATURED PRODUCT:
ACME HiTek Coated Bullets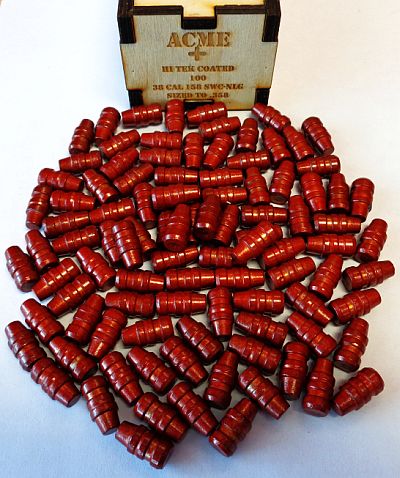 ACME Bullet Company introduces their "Lipstick" bullets. These are their cast bullets with HiTek coating. All bullets are cast with 92-6-2 alloy then coated with HiTek coating that molecularly bonds to the bullet as it cures. This process completely encapsulates the bullet.
Benefits include:
1) Coating prevents lead to bore contact thus virtually eliminating lead fouling.
2) Less smoke as associated with traditional wax lubed bullets.
3) Range friendly.
4) Bullets feed well in automated bullet feeders.
5) Shoot higher velocities without lead fouling.
6) Can be shot through polygonal rifling.
Give your next target a lasting kiss.
INSIGHT OF THE MONTH:
Powder Coated Bullets
Powder coating cast bullets has become increasingly popular over the past couple of years. Traditionally, powder coating is a method of applying a powdered paint to metal using heat. With reloading, it serves as an alternative to the traditional lube for lead cast bullets that has a number of benefits.
Advantages:
reduces or eliminates lead left behind in the barrel.
not as smokey as traditional lubes.
increased velocities
When reloading powder coated bullets there are a few things to keep in mind. The powder coating is not as strong as a copper jacket. The powder coating can be scrapped off while seating the bullets, so flare the brass a bit more generously. The powder coating will also not resist a crimp like a copper jacket, so keep that in mind as well. Lastly, it is good practice to use lead load data for the powder coated bullets.
If you are looking to get into casting bullets, or just looking for bullets to shoot with the jacketed options drying up, powder coated bullets are a great option.
Titan Reloading 994 W. Sumner St., Hartford, WI 53027 1-262-397-8819
WE'RE SETTING THE STANDARD, ONE CUSTOMER AT A TIME.
You are receiving our monthly Titan Reloading Newsletter because you subscribed to it when you set up your account on our website www.titanreloading.com. We don't want you to miss out on the newsletters we send you. We also respect all our valued customers consent. That is why we are asking all of our readers to decide if they would like to discontinue receiving newsletters from Titan Reloading. If you'd like to stop receiving our newsletters please click the "unsubscribe" link at the bottom of the newsletter.