You can subscribe to this Newsletter if you sign up for an account with Titan Reloading.
CLICK HEAR TO REGISTER AN ACCOUNT
CLICK HERE To browse an archive of past newsletters.

OCTOBER 2014 NEWSLETTER
Well, it looks like Fall is right on time here in Wisconsin. It's always amazing to me how fast the trees change this time of year. In a couple of weeks the visibility in the woods will be better and the bugs will be gone. I for one love this time of year……as long as I avoid thoughts of what's to follow. I sure would not mind if Global Warming could finally come to Wisconsin this winter. YEAH RIGHT……it ain't gonna happen.
We are truly enjoying all the friends we have made through Titan Reloading and look forward to many more. Feel free to contact us. When possible, please email us rather than call. Due to our limited phone system and staff we are able to respond to your questions quicker via email. Please include your full name or order ID number with any order inquiries. Service and Support is our top priority. As always, you will find many answers to questions in the "FAQ" and "Help Videos" areas of our website www.titanreloading.com . Check us out on Google+ and Facebook .
Dennis / Titan Reloading
FEATURED PRODUCT:
Competition Electronics Pro Chrono Digital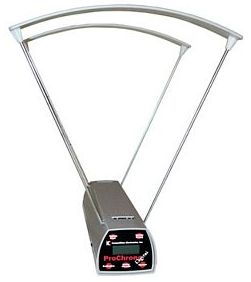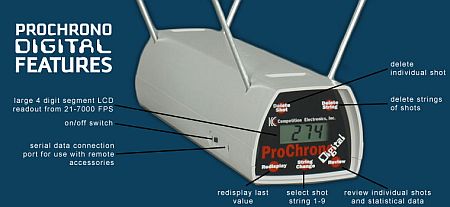 Accurate velocity measurements between 21 to 7000 feet per second for rifles, pistols, arrows and shotguns. Easy to set-up and use with a HUGE shooting area. Store 9 shot strings with up to 99 shots per string in power down memory. Review through each velocity and shot data including high, low, number of shots, standard deviation, extreme spread and average velocity. Optional indoor light kit required for indoor use. Durable plastic light diffusers with 4 mounting rods are included. Powered by a 9 volt battery (not included). This chronograph has a tripod mounting hole threaded for a ¼x20 mount.
Features
Store 9 shot strings with up to 99 shots each in power down memory.

Review each velocity and shot string data which includes average velocity, standard deviation, and extreme spread.

Delete an individual shot or entire string with the touch of a button.

Connect to the data port for remote capability with optional accessories.

Customize your system with optional accessories. Only pay for the features you need.

Quality Electronics and years of refinement yield a sensing design that is compatible with a wide variety of loads and light conditions.
Specifications
Velocity Range: 21-7,000 feet per second
Temperature Range: 32-100 degrees Fahrenheit
Size: 16 x 4 x 3-1/4 inches
Battery Required: One 9-volt alkaline battery (not included)
Mounting Hole Thread: 1/4 x 20
Guide Wire Size: 3/16 x 16 inches
Memory Capacity: Up to 9 strings of up to 99 shots each
Minimum Time Between Shots: Between 250 mSec and 500 mSec
Shot Timing Resolution: 750 nSec Crystal Controlled
Accuracy: +/-1% of measured velocity, or better
Current Consumption: Approx. 15mA
Printer Compatible: Yes with optional Digital Remote Control with IR Port (Competition Electronics part number CE14000). The Digital Remote Control will allow you to print directly to a HP IR compatible pocket printer. The Digital Remote enables all velocity and statistical information to be downloaded to a PC via "HyperTerminal" (a component of Microsoft Windows). The Digital Remote allows the ProChrono Digital to be operated remotely, from the shooting bench, via a 20 foot cable.
Warranty: 2 year warranty against defects in material or workmanship with dated proof of purchase.
INSIGHT OF THE MONTH:
First Time Progressive Loading
Progressive presses are designed for experienced reloaders, and shooters who go through several hundred rounds per week. Unlike a single stage loader, a progressive press causes many things to occur at the same time and because of this, there are many more things to monitor.
There is no reason you can't start with a progressive press, but unless you go through over 200 rounds per week a progressive press is not really necessary. The Turret press is both less expensive and easier to set up, and (once set up) will reload 200+ rounds an hour in experienced hands. Setting up a progressive press requires patience and attention to detail.
The 50th Anniversary Kit 90050, the Classic Cast Turret Press Kit 90304 and the Value Turret Press Kit 90928 all contain the basic elements for a complete set up. Just order the die set or sets that correspond to the cartridges you wish to reload, and for rifle cartridges, a case length gauge/shell holder to maintain correct case length. The shell holder needed for the press to use the dies is included with all Lee Die sets other than RGB.
If you decide on a fully progressive press for your first, we would strongly advise loading one cartridge at a time until you are completely familiar with what functions are occurring at every station. Once you clearly understand the mechanics involved, then you can begin loading a new case with every stroke and be at "full tilt".