Description
CONSISTENT CRIMP for
LEE CLASSIC CAST PRESSES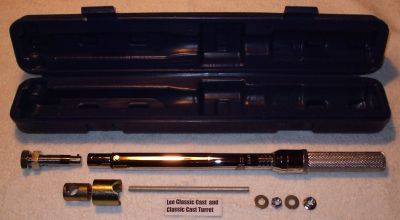 Includes:
1 Consistent Crimp Handle,
1 Durable Storage Box for the handle,
1 standard adapter,
1 Lee Classic Cast Dual Handle Conversion Kit
Notice: This kit fits the Lee Classic Cast, the Classic Cast Breech Lock and the Classic Cast Turret presses.
Quick Overview
1. Produces quantifiable crimp pressure in Foot Pounds.
2. Controls exact neck sizing every time with the Lee Collet Dies.
3. Makes consistent crimps load after load utilizing the Lee Factory Crimp Dies.
4. Allows you to return to any specific crimp pressure even after die adjustment or die swap.
5. Saves you money-Don't be so quick to blame the powder, the bullet or the weapon when it could be the wrong crimp pressure.
6. The fact is, if you are not using our Consistent Crimp- you are just guessing.