Description
FLUSH MOUNT
QUICK CHANGE BASE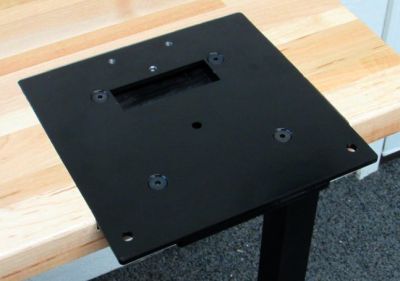 The flush mount quick change system base plate is for the reloader who's bench serves many purposes. Enjoy a clear, flat work space when you want it, but in only 30 seconds, you can mount a vise, case trimming tools or your favorite press and get to work. Heavy duty 3/16 & 1/4 thick steel construction can take anything you can throw at it.
Swapping out presses/tools takes less than 30 seconds and requires no tools.
Attention: This plate is made to be routed into your bench to create a nice, flat unobstructed workspace. It also allows folks to use the quick change system, with-out adding any height to their equipment, user ergonomics or to avoid overhead cabinets, etc. The plate is 8″x8″ square and overhangs the bench face 1 1/2″. Also, It can be mounted flat to your bench top if you don't want to route it in flush. If you choose to do that, this part here is helpful. (No route riser plate)
Note: Required routed out depth is exactly 716″ deep.
!!Required!! Quick change top plates (Each reloading press or piece of equipment you want to use with the quick change set up, needs its own top plate.
CLICK HERE to select the top plates for your particular press(s).