Description
NEW LEE AUTO-PRIME XR LARGE & SMALL PRIMERS
The original Lee Auto-Prime automatic hand held priming tool was patented and introduced in 1979 has been improved. Ask any old hand the best way to prime and guaranteed, Auto Prime will be the first words from their lips. The Auto-Prime had just one limitation, only certain brands of primers can be used because some brands could chain fire if used improperly.
Anyone buying primers today knows finding your favorite brand of primer can be difficult if not impossible. If you have been loading for a few years you also know that the packaging has become larger. The new Auto-Prime XR eliminates the primer brand restriction so any brand primer is now usable.
The new Auto-Prime XR features a patent pending elevator pin. This pin safely separates a single primer from the others and presents it for priming reducing the likelihood of a chain fire. The new tool also has a new unbreakable comfort curve lever and large and small primer trays with slide on covers that comfortably accepts all brands of primer boxes. Packed in a convenient molded storage box that holds your tool and up to 18 shell holders.
Note:
The Auto Prime body has to be opened up slightly on the top rim for large diameter Magnum cases to fit. This generally applies to the new short magnums. This can be done with a hand grinder or rat-tail file. If you are unable to perform this modification at home, you can return to the factory and we will modify it for $4.00.
Requires Auto Prime Shellholders (sold separately). Lee Auto Prime Shellholders have a different base than "Auto Prime 2 and press" shellholders which will not fit this priming tool.
Shellholders are not included with this Auto Prime XR.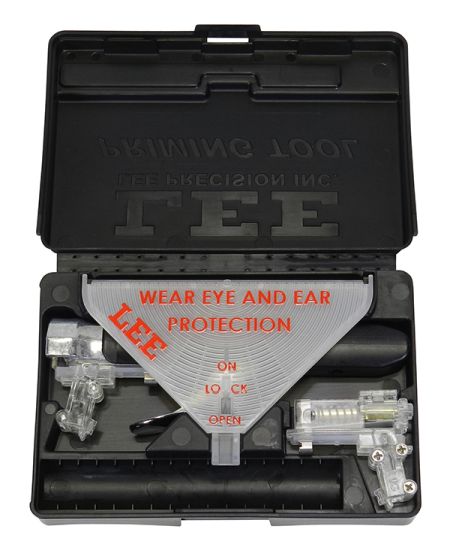 PRODUCT VIDEO