Description
MEC 600 JR. MARK 5
16 GAUGE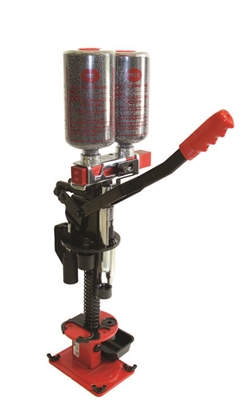 #1 Shotshell Reloader in the World!
Time-tested excellence is built into this single-stage reloader featuring a quick, simple operation with minimal effort.
Load four to six boxes per hour.
Can be upgraded with the 285 CA primer feed, eliminating the need to handle each primer individually.
Die sets are available in all gauges.
Value and reliability
Look no further than the world's #1 selling shotshell reloader
the MEC 600 Jr. Mark V!
INCLUDES:
1-1/8 oz. Charge Bar
Bushings #29, #30 and #32
SPECIFICATIONS:
Press Type: Single Stage
Gauge: 16 Gauge
Shell Length:  2 3/4″
Frame:  Steel
Priming:  Built in, (can be upgraded to automatic primer feed with the Mec 285 CA primer feed, Sold Separately)
Loading Rate:  approximately 150-200 shells per hour
Gauge Conversions:  Yes
HIGHLIGHTS:
Cam-action Crimp Die.
Spindex Crimp Starter, swivels to align itself correctly with original shell creases.
NOTE: This reloader will reload steel shot shells. To convert to steel shot kit #8433 is necessary. Do not use components designed for use with lead shot when loading steel shot shells.
NOTE: A special steel shot charge bar must be used when loading steel shot. Do not use charge bars designed for lead shot when loading steel shot shells.