Description
MEC 8567N GRABBER 12 GAUGE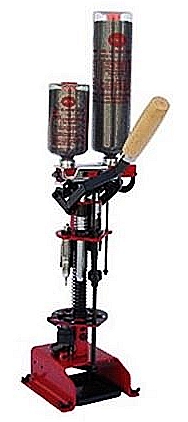 The 8567N Grabber Progressive Press is perfect for reloaders looking for a high-speed, efficient press that does ten different operations at six different stations. The Auto-Cycle charging and three stage crimp produce a finished shell with every pull of the handle. The "Power Ring" resizer ensures consistent sizing. All the reloader has to do is put a hull on the press and insert a wad. E-Z Primer primer feeder included. Additional die sets are not available for this press.
Specifications:
Press Type:Progressive Press
Gauge: 12 Gauge
Shell Length: Factory Set at 2-3/4″. Adjustable to 3″ with kits available from MEC
Frame Material: Steel
Load Rate: approximately 300-400 shells per hour
Charge Bar Shot Weight: 1-1/8 ounces
Powder Bushings Included: 29, 30, 32
Gauge Conversions Available: No
Features:
Three Crimping Stations (first station starts the crimp, the second station closes the crimp and the third places a taper on the shell)
"Auto-Cycle" Charging
"Power Ring" Resizer (gives consistent, accurately sized shells for optimum gun performance)
Priming Feature: E-Z Prime Primer Feed (fill with primers and the loader does the rest)
Performs ten operations at six stations at once; with every stroke a reloaded shell is completed.
Kits available to make steel shot compatible (not included).
Removal of loaded shell causes carrier to index.