Description
MEC 9000GN
16 GAUGE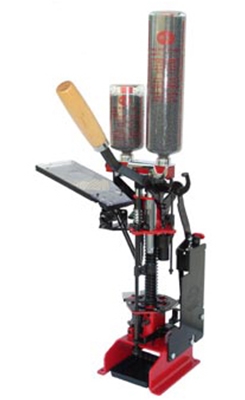 High-speed, high-volume reloading at its best.
The 9000GN has all the innovative features found on the 8567N Grabber, plus automatic indexing and finished-shell ejection for quicker and easier reloading.
The revolutionary Auto-Dexル automatically moves the shells through each reloading stage by simply returning the handle to the top of its stroke. Accurately resized shells are achieved with each stroke.
Finished shells are automatically ejected from the shell carrier after final crimping. This time-saving feature makes one-more-hand operation obsolete.
Finished shells with every stroke
The fastest, smoothest indexing system ever made. The factory-set speed provides uniform movement through every reloading stage regardless of operator action.
INCLUDES:
1 oz.

Charge Bar
Bushings #

23, #25 and #39
SPECIFICATIONS:
Press Type: Progressive
Gauge: 16 Gauge
Shell Length:  2 3/4″ factory setting
Frame:  Steel
Priming:  E-Z Prime automatic primer feed
Loading Rate: approximately 300-400 shells per hour
Gauge Conversions:  No, die sets NOT available.
HIGHLIGHTS:
Three Crimping Stations-first starts the crimp, the second closes the crimp and the third places a taper on the shell.
"Auto-Dex" Automatic Indexing with finished shell ejection.
"Auto-Cycle" Charging.
"Power Ring" Resizer gives consistent, accurately sized shells for optimum gun performance.
Removal of loaded shell causes carrier to index.
Kits available to make steel shot compatible (not included).
Performs ten operations at six stations at once; with every stroke a reloaded shell is completed.