Description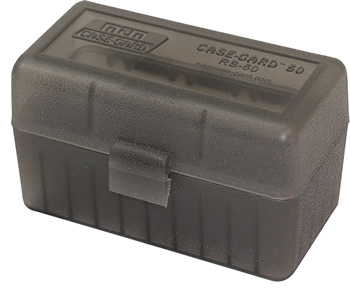 These are the newer CASE-GARD ammo boxes. Made of virtually indestructible polypropylene that will not warp, crack, chip, peel, expand or contract, MTM CASE-GARD rifle ammunition cases are still the first choice of rifle enthusiasts throughout the world. Mechanical hinge that is guaranted for 25 years. Snap-Lock latch protects contents from accidental spilling.
Each cartridge rest in its own individual compartment. Each CASE-GARD 50 ammo box is supplied with a load label for recording load and sight data. All rounds listed as bullet up, unless noted. See ammo box charts for more calibers.
All MTM Case-Gard's are MADE IN THE USA in Dayton Ohio.
RS-50-41
For 17 Fireball,17 / 221 / 223 Rem., 223 Rem. HP,17 MACH 4, 204 Ruger, 222 Rem. Mag., 300 Sherwood, 300 Whisper, 32 Ideal, 32 Win. S.L., 5.56×45 NATO, 6mm-223 Rem., 6 x 47.
Max. OAL= 2.65″
Color: MTM Smoke(41)