Description
Redding T-7 Turret Reloading Press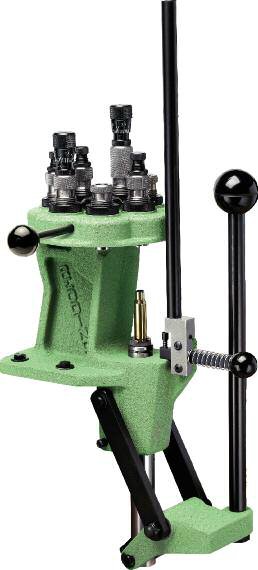 Cast iron construction, powerful compound linkage
and a rigid seven station turret combine to make
the Redding T-7 the best turret press ever!
The design criteria was to create the ultimate turret press.Our engineering team started with our time proven cast iron construction and turret support that is second to none.They added powerful compound linkage with over 3.8″ of ram travel. A 1″ diameter hollow ram was chosen with the smart primer arm and spent primer collection system borrowed from our Ultra mag. Another station was added to the turret for even greater versatility and an optional Slide Bar Automatic Primer Feeding System was designed.
After adding a few more subtle refinements and built with the precision you would expect from Redding, we're confident this is the best turret press ever.
NOTE: Shown with optional Slide Bar Automatic Primer Feeder System.
Specifications:
Press Type: Turret Press
Frame Material: Cast Iron
Frame Design: C-Frame
Frame Offset: None
Frame Opening Size: 4-3/4″
Handle Location: Bottom Right Hand
Die Size Accepted: Standard 7/8″-14 threaded dies
Die Bushing Accepted: No, accepts replacement turrets (sold separately)
Die Bushing Brand Used: N/A
Spent Primer Collection System: Tubular spent primer collection
Ram Stroke: 3-13/16″
Ram Diameter: 1″
Priming Feature: "Smart" priming arm
Number of Mounting Holes: 4
Mounting Hardware Included: No
Additional Features: Positive ram stop, small removable handle to aid in turning from one station to the next
Warranty: Lifetime warranty against defects in materials and workmanship