Description
UNI-CHUCK "SHIM FIT" COMBO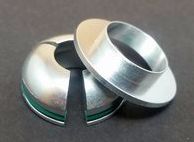 Upgrade your Kineticᆴ Bullet Puller ANY MAKE into the ULTIMATE with the new Uni-Chuck "Shim Fit" Combo.
Extend the life of your current Kinetic Bullet Puller by using our New Patent Pending UNI-CHUCK モSHIM FITヤ COMBO.The UNI-CHUCK モSHIM FITヤ COMBO is designed to restore and replace the worn interface and also improve the lost efficiency of ALL Kinetic Bullet Puller brand names on the market.
By concentrating the kinetic energy, it increases the pulling power, therefore, reducing the users effort in pulling a bullet.
Simply affix the モSHIM FITヤ insert to the puller tube opening (flat side up) and assemble the UNI-CHUCK/cap together and you are ready to start pulling.
Simply モFIT ITヤ and モHIT ITヤ