Lee Carbide Sizing Dies
Lee Pistol Carbide Sizing Dies
All Lee straight sided pistol dies have carbide sizers. The solid carbide insert is ground to a special contour that does not leave the belt mark on the case. No case lubricant is needed and will actually burnish the case to improve the finish. Will never wear out. Shellholder sold separately.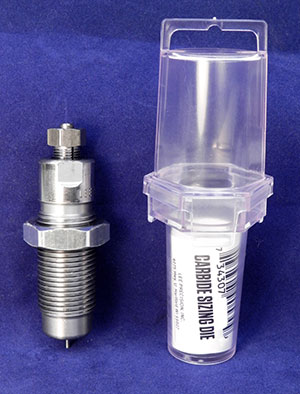 NOTE:
The calibers below are available on special order. Please contact us to order.
.25 ACP
.40 S&W (can be used to load 10mm Auto)
Specifications:
Material: Steel w/Carbide Insert
Includes:
Carbide Sizing Die
Plastic storage container.
NOTE: Lee Precision is fazing out the pictured storage boxes and replacing them with durable tube containers.
"CLICK" ON THE CALIBER BELOW
.40 S&W
---

Lee UNDERSIZED Carbide Sizing Dies
Showing 1 to 10 of 10 (1 Pages)