Mark 7 Reloading
MARK 7 RELOADING
Coming Soon in Early 2020!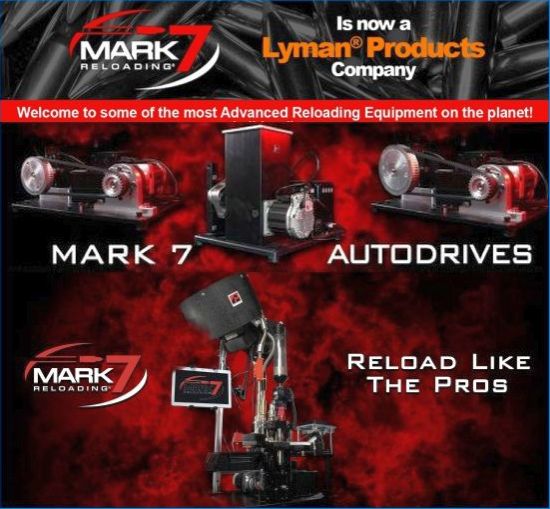 Lyman Products Corporation is extremely pleased to announce that Mark 7 Reloading is now a Lyman brand and a part of the Lyman family, which includes Pachmayr, TacStar, A-Zoom, Trius, and Butch's. In order to strengthen and expand upon their already well-respected position within the reloading market, Lyman Products saw a growth opportunity within the reloading space by combining its world-class manufacturing with Mark 7's world-class engineering.
Mark 7 has brought change and innovation to the market since their introduction of the popular Autodrive systems in 2015. Since then they have continued to bring new and dynamic advancement to the reloading category with their Evolution™, Evolution Pro and Revolution® Reloading Systems. Now in its sixth year of operation, Mark 7 has a full line of reloading presses ranging from hand operation to light commercial operation.
Lyman president and CEO, Rick Ranzinger, said, "This was a natural fit for us as the Mark 7 brand and products dovetail nicely with our existing reloading products and initiatives. Lyman Products provides strong manufacturing capabilities and brand recognition that will enable Mark 7 to grow to new heights. We are excited to embark on this new chapter as we continue the Lyman mission to provide innovative products designed by shooters, for shooters, since 1878."
---
Showing 1 to 4 of 4 (1 Pages)