Description
DILLON SL 900 PRESS 20 GAUGE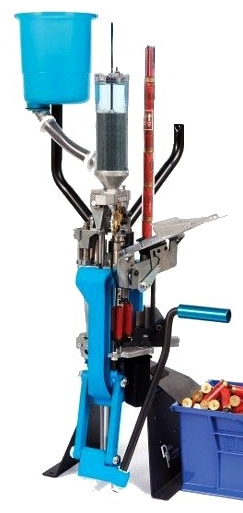 The SL900 Shot Shell Reloader features:
12, 20 and 28 Gauge Loaders
Automatic Indexing
Auto Powder / Priming Systems
Optional Automatic Casefeed System
Adjustable Case-Activated Shot System
Factory Adjusted to Load AA Hulls
Tilt-Out Wad Guide
The SL 900 ships with easily adjustable, case-activated, powder and shot systems that eliminate troublesome bushing changes along with spilled powder and shot.
The powder measure is the same proven design, renowned for its accuracy (within one-tenth of a grain) and consistency, that we use on our metallic cartridge reloaders. Our adjustable shot dispenser uses the same design principle, with an extra large hopper that holds 25 pounds of shot.
The frame is a heavy duty O-frame design, precision CNC machined to exacting tolerances. Switching from one gauge to another is easy, because the SL 900 features Dillon's famous interchangeable toolhead design. The toolhead assembly simply slides out of the frame, keeping all your critical die and measurement adjustments intact. Each machine comes with factory adjusted dies.
Benefits
The SL 900 features automatic indexing and is capable of producing hundreds of rounds per hour or more if you are using the OPTIONAL case feeder.
The electric Casefeeder (Stock#s 97036/37) automatically feeds cases right side up into the case feed tube, stops and start automatically to keep the tube filled.
With our quick change caliber conversion kits you can easily swap the machine from one gauge to the next. The SL 900 is available in 12, 20 and 28 gauge.
A low powder alarm (Stock#16306) warns you both audibly and visibly when the powder level in the measure gets low.
Case Feeder
The OPTIONAL Casefeeder from Dillon Precision is available in 110v and 220v* variants. Each Casefeeder ships with either a 12 gauge Casefeed Plate or the 20/28 gauge Casefeed Plate which are listed below.
12 Gauge Case feeder #97037
20/28 Gauge Case feeder #97036
12 Gauge Case feed plate #17811
20/28 Gauge Case feed plate #97045
* The 220v Casefeeder is only for use in Europe, Asia and Australia.
How it Works
It is easy to switch between gauges on the SL-900.
The conversion kit includes:
the shellplate
dies
toolhead
shot dispenser
wad guide
The powder measure is also available separately (#17817).