Description
Lee Breech Lock Reloader Press
Now with the Breech Lock System
An outstanding value. Exclusive balanced lever that can't drop down to pinch your fingers. Unlimited hand clearance that only a "C" frame can offer. Works equally well with the right or left hand. Even if you already own a press, an extra press is always useful for decapping, bullet seating or bullet sizing. The perfect press for the shooter looking to try their hand at reloading without spending a lot on press. This press includes one Quick Change Bushing. CLICK HERE to buy Breech Lock Quick Change Bushings.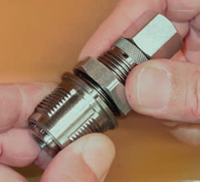 Specifications:
Press Type: Single Stage
Frame Material: Die Cast Aluminum
Frame Design: C-Frame
Handle Location: Bottom Center
Die Size Accepted: 7/8″-14 Threaded Die
Ram Stroke: 3-1/4″
Notes:
This press only primes with the Lee Ram Prime #90106 sold on the Priming Tools and Holders page.