Description
STANDARD ULTRAMOUNT
QUICK CHANGE BASE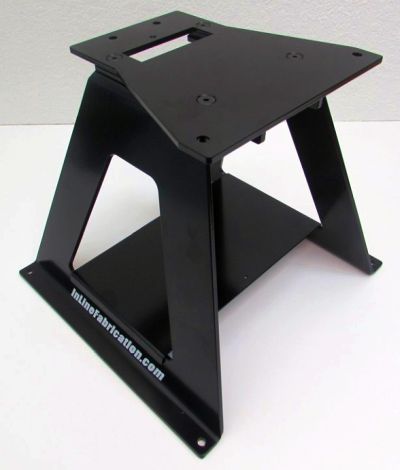 Raises your reloading press up to get the action closer to your eyes and increase reloading comfort and ergonomics.
Super solid 316 steel construction, accessible lower storage tray and coated in beautiful black powdercoat are all features of this high quality piece of reloading equipment. The Ultramount's modular design lends itself to fit just about any reloading press available today.
!!Required!! This base set up is to be used with our quick change top plates. You need one top plate per item you wish to swap in and out.
CLICK HERE to select the top plates for your particular press(s).
Swapping out presses/tools takes less than 30 seconds and requires no tools.
(Kit includes, legs,quick change base plate and hardware.)(You will need 4pcs of 1/4″ diameter hardware of whatever style you need to attach the mount to your bench. I would include it, but everyone's benches are different and require different hardware.)
The Ultramount is 12″ wide, 11.5″ deep and 9 3/4″ tall.