Description
Redding Ultramag Reloading Press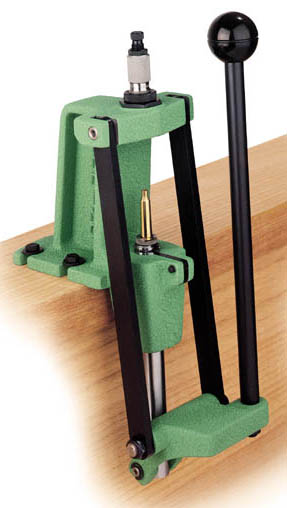 The largest and strongest press available for the toughest reloading chores
At first glance you will see what sets the ULTRAMAG apart from all other reloading presses: the unique location of its compound leverage system. Unlike other reloading presses which connect the linkage to the lower half of the press, the ULTRAMAG'S leverage system is connected to the top of the press frame. This allows you to develop literally tons of pressure without the usual concern about press frame deflection or misalignment.
The ULTRAMAG features a huge 4-3/4″ frame opening and 4-1/8″ of usable ram stroke, making it ideal for loading oversized cartridges such as the old Sharps Buffalo Cartridges and British Nitro- Express rounds.
Its unique long link compound leverage system has more mechanical advantage over a greater distance than any other reloading press on the market. This makes childs play of difficult case forming operations.
Specifications:
Press Type: Single Stage
Frame Material: Cast Iron and Steel
Frame Design: C-Frame
Frame Offset: 0
Frame Opening Size: 4-3/4″
Handle Location: Bottom right hand
Die Size Accepted: Standard 7/8″-14 threaded die with adapter inserted, with adapter removed 1-1/4″-12 threaded dies, with optional adapter 1″-14 threaded dies (sold separately)
Die Bushing Accepted: No
Die Bushing Brand Used: N/A
Spent Primer Collection System: Built in
Ram Stroke: 4-1/8″
Ram Diameter:
Priming Feature: "Smart" primer arm and large and small primer cups included
Number of Mounting Holes: 4
Mounting Hardware Included: No
Additional Features: Compound Leverage