Description
TITAN PRIMER CHUTE
PLEASE CHECK AVAILABILITY (upper right corner).
LIMITED SUPPLY-NO BACKORDERS.
ABSOLUTE TWO PER ORDER LIMIT
DUE TO PRODUCTION RATE
The TITAN PRIMER CHUTE is a PLA plastic "3D printed" part that fits snugly into the base of a Lee Pro 1000 or Value Turret Press. The chute funnels spent primers down to a spout where they drop through a 3/4″ hole drilled through the bench top. The spout accepts a PVC Tube and Cap (sold separately) that holds the spent primers. With the Titan Primer Chute you will never need to unbolt the press to empty the spent primers again.
NOTE: This primer chute is for the Pro 1000 and Value Turret Press ONLY. It does not work with any other presses.
NOTE: If you choose to get a tube other than the PVC tube below be sure it is made of a rubbery material to stretch over the down spout. The inside diameter of the tube MUST BE 1/2″.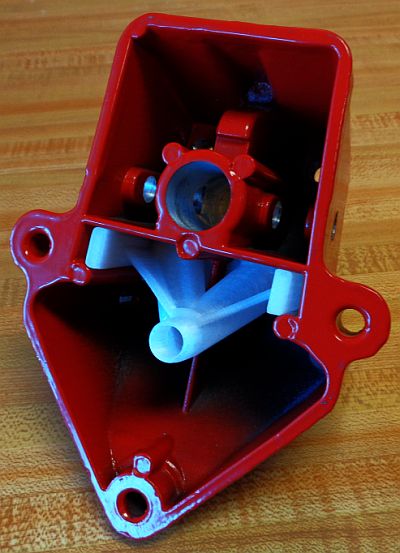 NOTE: This Primer Chute does not fit the bases of Pre-1992 presses. If your base has strength ribs inside with an "X" pattern as shown below your press is Pre-1992. We do not make a Primer Chute for these early presses.